Even with the rise of other competitors, Twitch remains to be one of the top leading live-streaming platforms. Launched in 2011, Twitch continues to give way for aspiring streamers to be known internationally by showing off their skills, creating content with other streamers, and for audiences to find themselves in an engaging community.
According to Twitchtracker.com, there are on average 110,783 live streams happening on Twitch every week. Taking the average stream time of 2 hours into account, that's approximately 13,293,960 minutes of live streaming happening on the platform.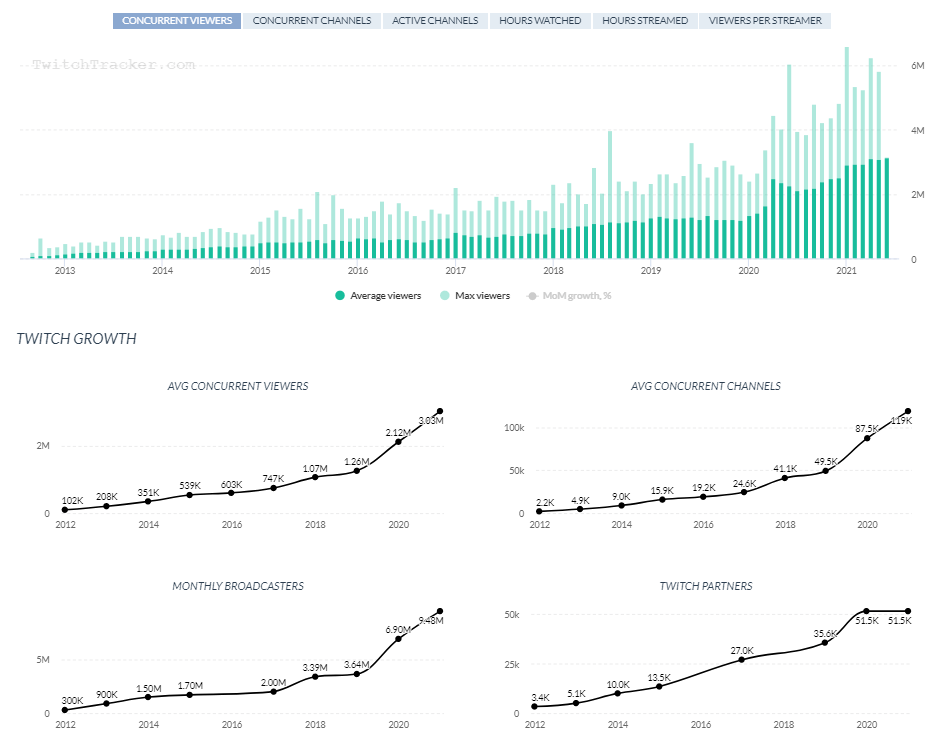 Plus, what also seems apparent is that the volume of the games we can watch and stream on Twitch has been increasing day by day, which will, in turn, affect the concentration of 'viewers' on a single stream.
Imagine: Thousand of streamers to watch, millions of minutes of gameplay being streamed every week, hundreds of games to play – how can you get an audience to watch your streams? 
As hard as it sounds, having a good amount of viewers in your stream is not really impossible! 
From the same data source on TwitchTracker, there is an average of 3,086,644 concurrent viewers this week alone. That's a massive volume of views, and no one can say that your stream will be ignored! 
The fact is: there's always someone willing to watch, and you just need the right strategy to get their attention. Now, how do you take advantage of that consistently massive viewership? How do you attract even just a slither of that viewership to your channel? 
Our advice: stick to your lane, and match your strongest gameplay skills with the most viewed games on Twitch. 
Why Choose Twitch as Your Streaming Platform
Aside from the statistical data we mentioned above, there are a few more reasons why you should consider streaming via Twitch. The platform is dedicated to catering to Esports streamers- which means it offers more value.
Ridiculously High Amount of Hours Viewed
Streamlab's Quarterly Report for Quarter Four of 2020 shows us that Twitch is still the King of streaming platforms.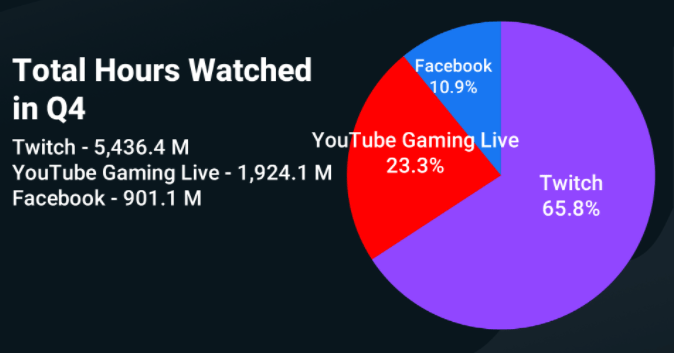 Looking at it, Twitch had 5,436.4 million hours watched in Q4 alone! With Facebook making only 901.1 M and Youtube Gaming Live making 1,924.1 M, there is no argument about Twitch being the most used platform in watching streams. 
This puts Twitch with 67% of the total hours watched in 2020, with Youtube and Facebook combined making only 33%.
Compatibility with Other Platforms
We think that a significant factor of Twitch having such a high viewership is because you can watch it almost anywhere. 
You can stream or watch on your computer, may it be Mac or PC, your handy dandy mobile phones, and even on your gaming consoles.
Revenue
Although we believe that you should stream only if it's your passion, you should still consider how much money you will earn by doing it. We all know that there are a lot of big-time streamers out there making thousands of dollars every second they broadcast. With perseverance, Bits (virtual currency used in Twitch) will be overflowing your own streams in no time.
Top 20 Games With the Highest Views on Twitch
Who else would we ask about the highest viewed games on Twitch than Twitch.tv itself? Here are the top 20 games with the highest amount of viewers as of May 19, 2021:
Disclaimer: The numbers presented in this article are obtained from Twitch on May 19, 2021, and will change and update real-time.
1. Grand Theft Auto V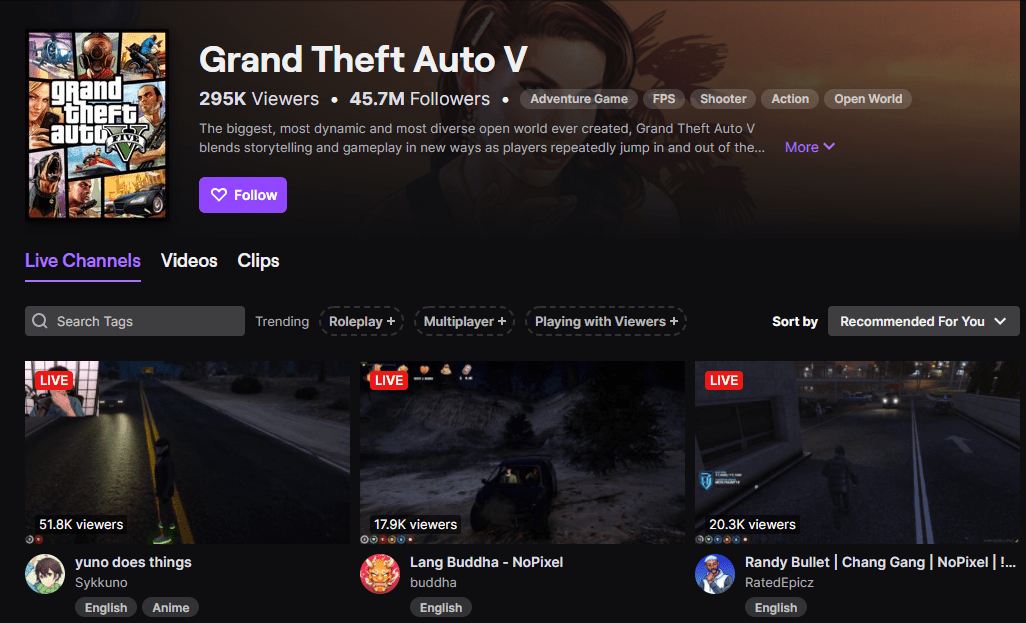 Number of Viewers: 573K
Number of Followers: 45.3M
The OG open-world game we all loved and enjoyed in our childhood still captures our interest until now, and it's currently the most viewed game on the platform.
With 45.3 M followers, you are very likely to attract an audience. Use the game's storyline to connect with your viewers by playing Michael De Santa, Franklin Clinton, or Trevor Philips and take over San Andreas!
2. League of Legends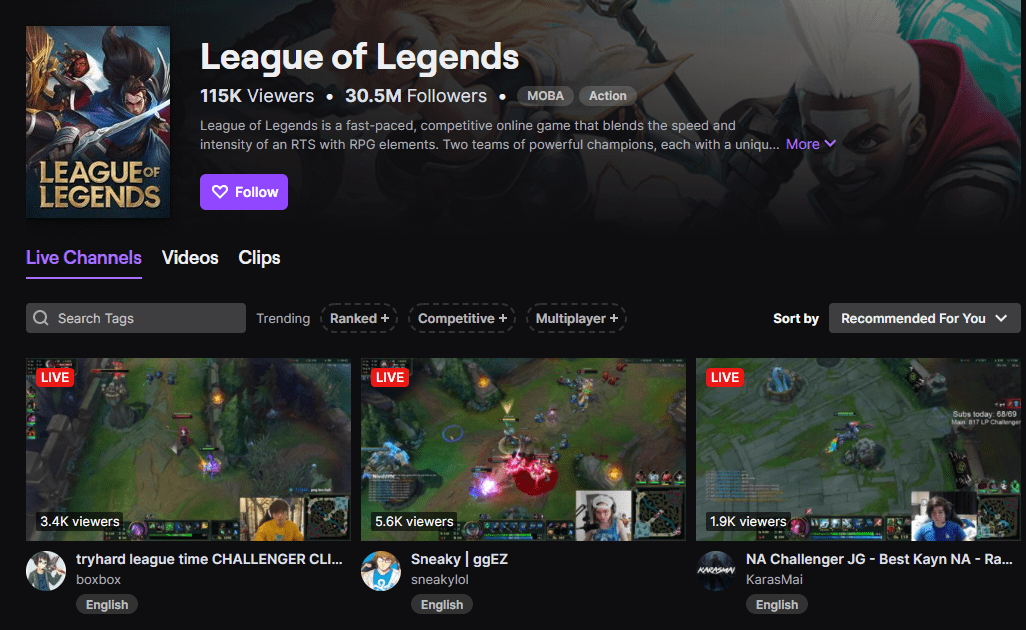 Number of Viewers: 148K
Number of Followers: 30.3M
The Summoner's Rift is calling you to stream this game! This fast-paced and competitive game will show your skills as both an individual and a team player. As you go higher in the ranking tier, the better opponents you'll battle with and the better the game and improve your league of legends rank.
What makes this game one of the most-watched is that streamers can play by competing or teaming up with their viewers live. Talk about engaging with your viewers! 
3. Minecraft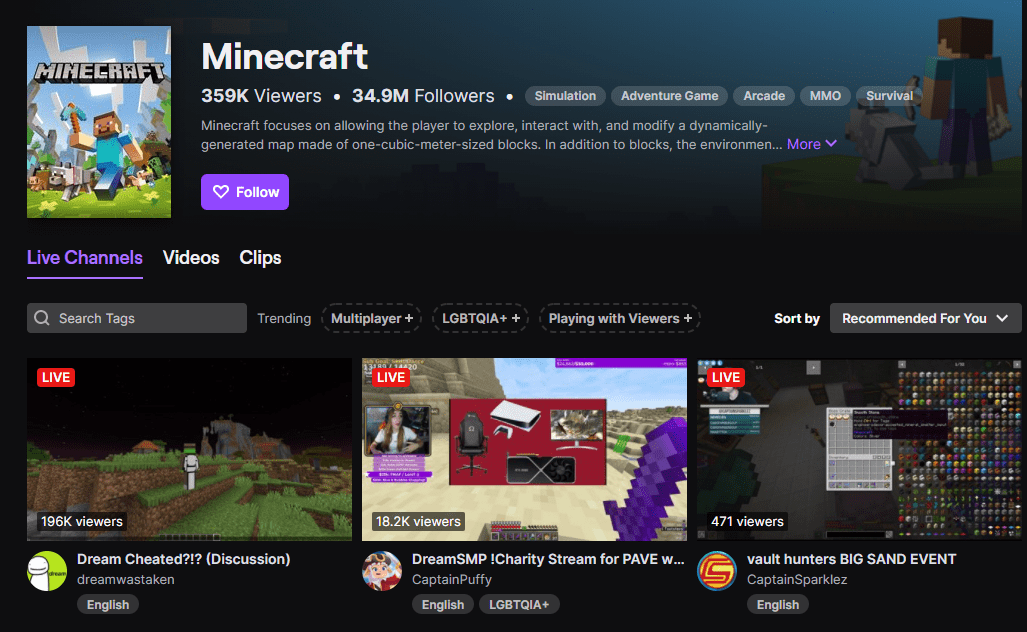 Number of Viewers: 66.K
Number of Followers: 34.5M
One of the more child-friendly games out there, Minecraft challenges its players to explore, interact with, and modify a dynamically generated map made of one-cubic-meter-sized blocks. 
Why has this game become so popular? Well, you don't necessarily have to be in beast mode when playing Minecraft. As their slogan goes, 'The World is Yours For the Making'. Although there are stressful and challenging parts when you play, the majority of the game brings out the creative, smart, and skillful streamer that is you.
4. Apex Legends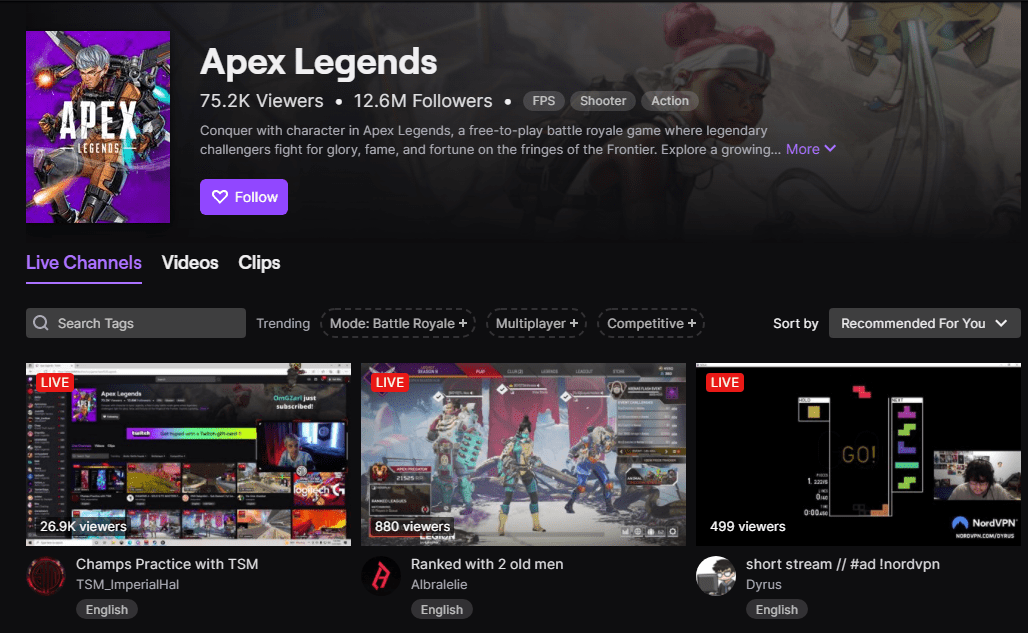 Number of Viewers: 66.7K
Number of Followers: 12.4M
Although still considered a baby in the gaming world, Apex Legends brings us the excitement of playing character shooters where players team up to battle for glory. 
In February 2019, the game was released for Microsoft Windows, PlayStation 4, and Xbox One, and it has been making its way to be the most viewed game ever since.
It has a good amount of following, which means active watchers are very much interested in seeing you play.
5. Valorant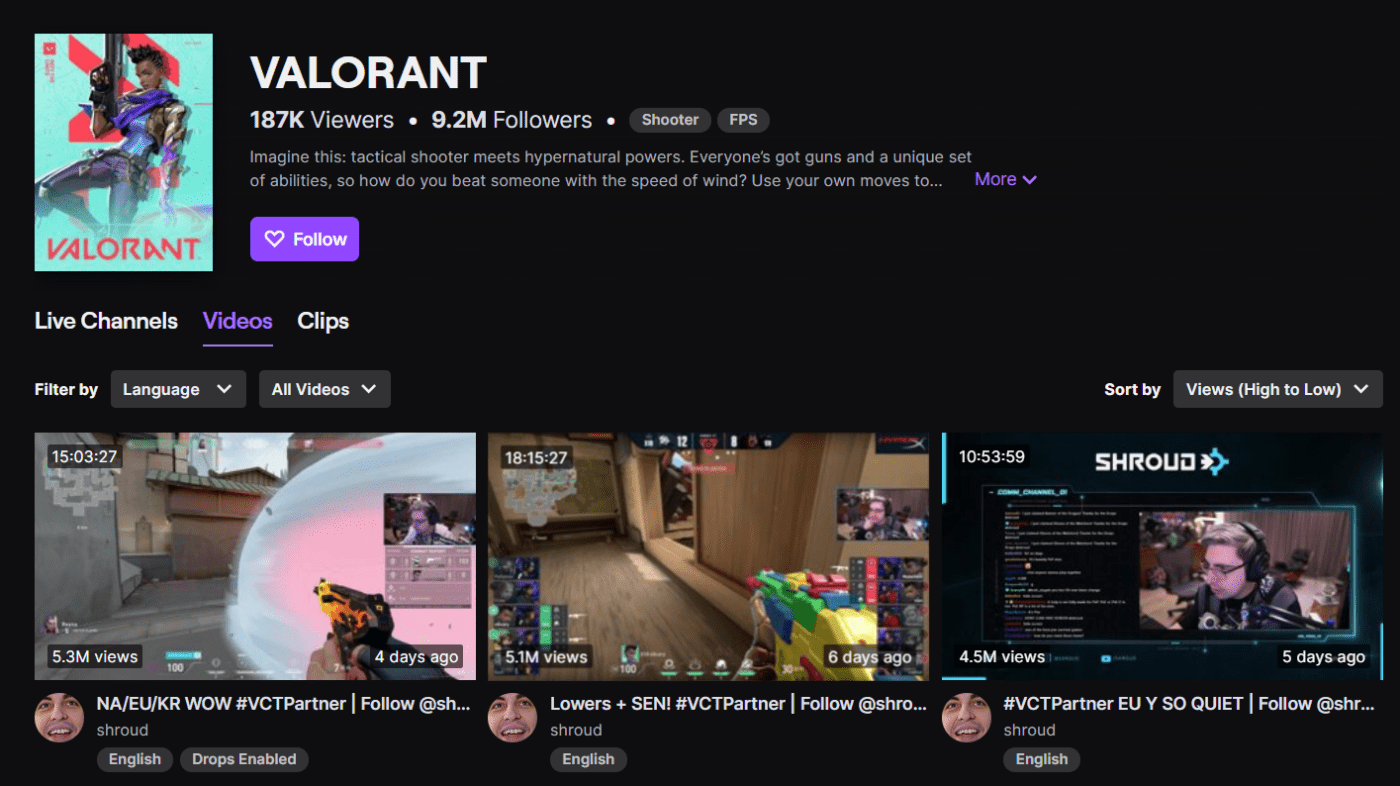 Number of Viewers: 66.K
Number of Followers: 9M
In Valorant, you get the best of both worlds. The game combines hypernatural powers with tactical shooting abilities. Choose between 15 Agents (playable characters) to battle up to 13 rounds in Competitive and Unranked modes or Deathmatch and Spike Rush.
The most viewed Valorant stream on Twitch is of shroud's with 2.2 million views! Imagine how many views you can get by playing this game: with a good amount of game followers, you'll surely attract an audience as long as you give a good game to watch.
Here's a link to his video: https://www.twitch.tv/videos/1030644447
6. Call of Duty: Warzone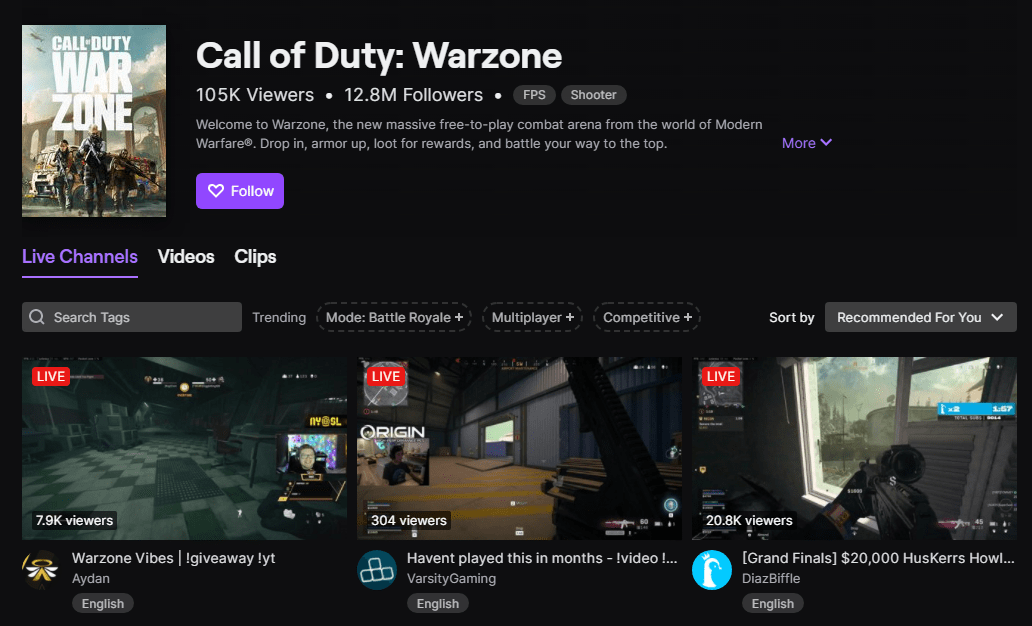 Number of Viewers: 57.3K
Number of Followers: 12.6M
Warzone belongs to the classic free-to-play combat arena we all love to play where you can choose between two modes: 
Battle Royale – This game mode's objective is to be the last squad standing, with each squad being composed of three players.

Plunder – The winning condition is to collect more cash versus the opposing squad (composed of three players).
What makes this game so relatable is that everyone can play it for free: you don't need to own the full version of Call of Duty: Modern Warfare to experience the thrill of it. 
7. Fortnite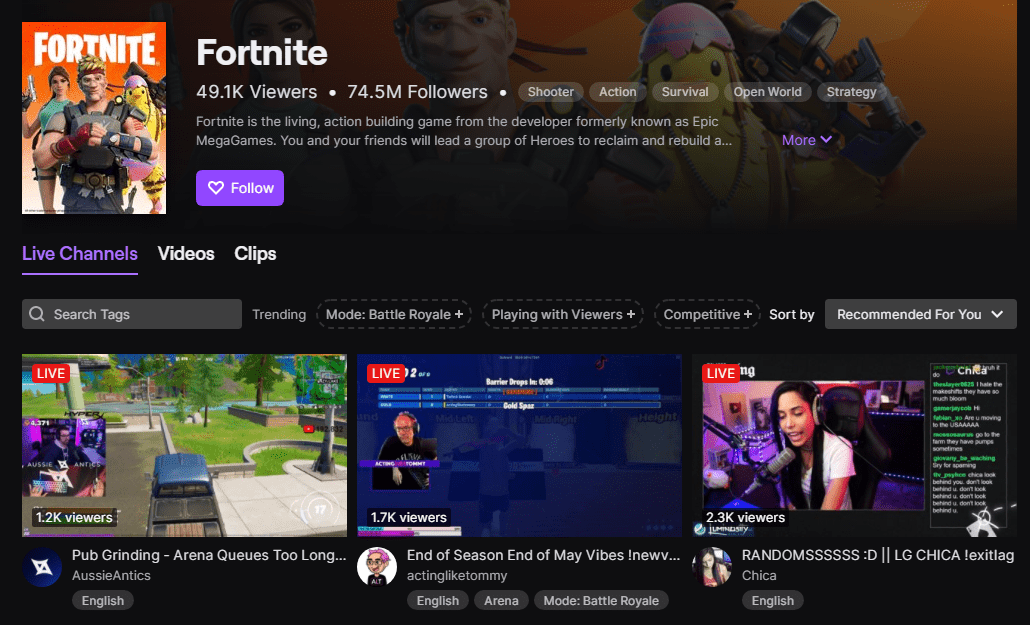 Number of Viewers: 45.5K
Number of Followers: 74.2M
Despite the recent issues with Epic Games' Fortnite, there is no question that the game is still one of the most viewable amongst other games. 
With millions of followers on Twitch, you'll surely catch the attention of Fortnite fans. And who else should we expect to get the highest view count on playing Fortnite but Ninja himself?
His most recent Fortnite videos have an average of 980k to 2.3M views. Here's a link to his channel:
8. World of Warcraft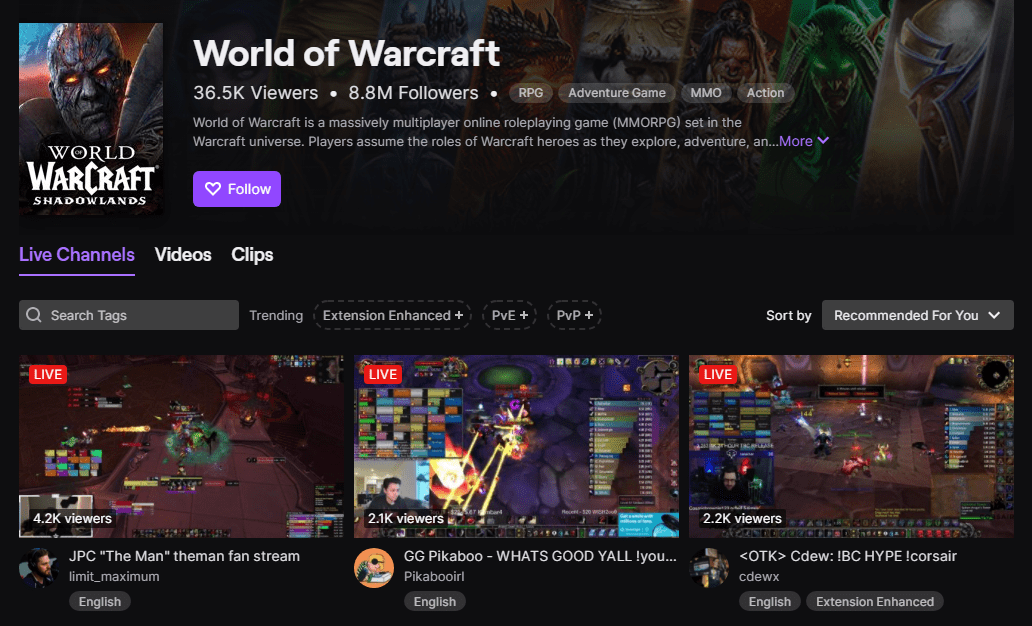 Number of Viewers: 44.3K
Number of Followers: 8.7M
One of the most popular massively multiplayer online role-playing games (MMORPG), World of Warcraft still remains to be on the top half of our list. Imagine being one of the thousands of players to interact in the same world, it surely will be a game full of possibilities and surprises.
9. Dota 2
Number of Viewers: 38.2K
Number of Followers: 14.4M
Another cult favorite, Dota 2 is another MOBA video game on our list that still excites both players and audiences despite being released many years ago.
According to the game's main site, Dota2.com, millions of players worldwide play the game every day. This is proof that even after almost eight years, players still need their Dota fix regularly. 
10. Hearthstone
Number of Viewers: 29.6K
Number of Followers: 8.7M
Who says card games are boring? Well, Blizzard Entertainment surely did not disappoint us in launching this free-to-play, fast-paced strategy card game that's easy to learn and massively fun to play. 
What makes this game popular on Twitch? As funny as it sounds, Esports fanatics do not always wake up and choose violence. Sometimes, they just want to enjoy playing simple games such as Hearthstone. For returning players, we've also created the best Hearthstone decks for returning players guide you can check out.
11. Counter-Strike: Global Offensive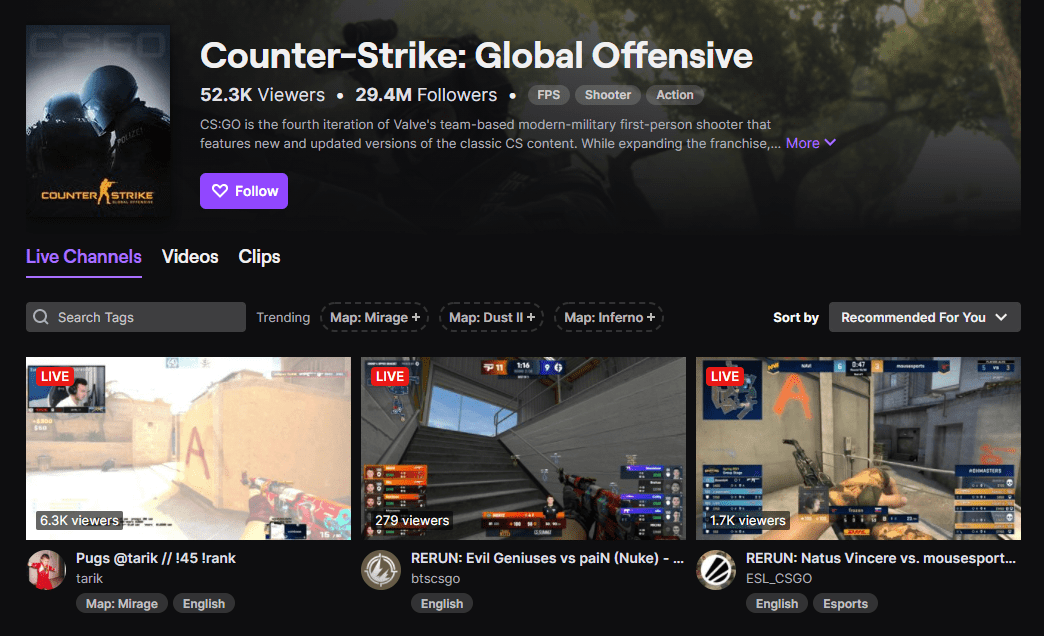 Number of Viewers: 29.2K
Number of Followers: 29.3M
Counter-Strike: Global Offensive or CS:GO is the fourth game in the Counter-Strike Series, developed by Valve and Hidden Path Entertainment in 2012.
It is one of the old-school games where you can play with your friends and meet new people, the same reason why it is still popular now. As the game develops through the years, we can see new gameplay modes, matchmaking, and leader boards.
12. Dead by Daylight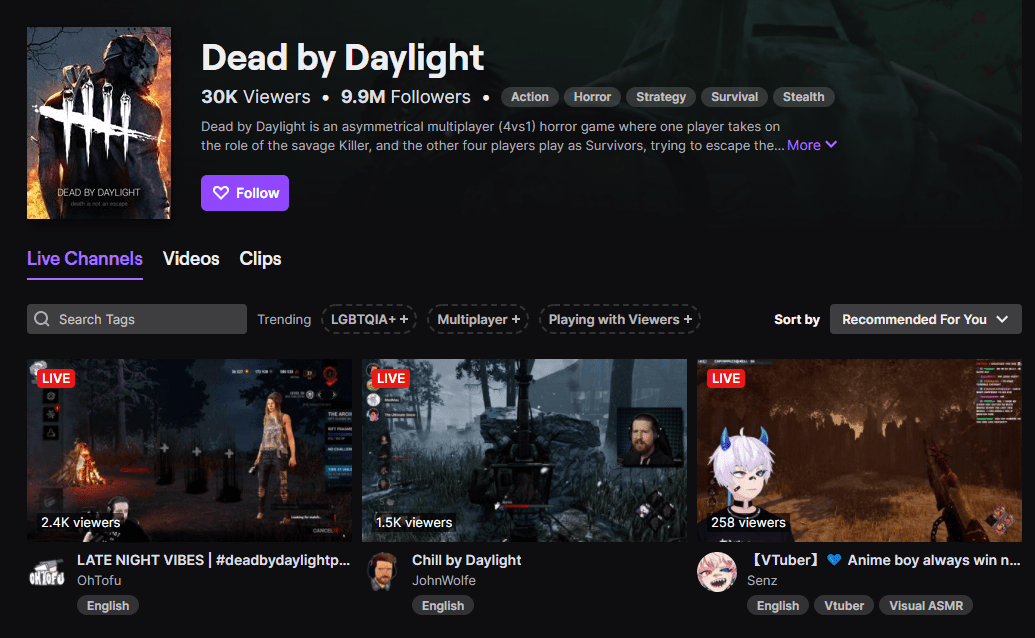 Number of Viewers: 23.9K
Number of Followers: 9.9M
Aside from the adrenaline of having to win the game, the horror theme of Dead by Daylight will keep the audience watching with one eye closed.
Imagine the thrill of being the game's Killer or one of the four Survivors as the game combines horror, action, and survival. 
Otzdarva's stream has accumulated about 140K views on his recorded Dead by Daylight stream, which you can watch here.
13. Resident Evil Village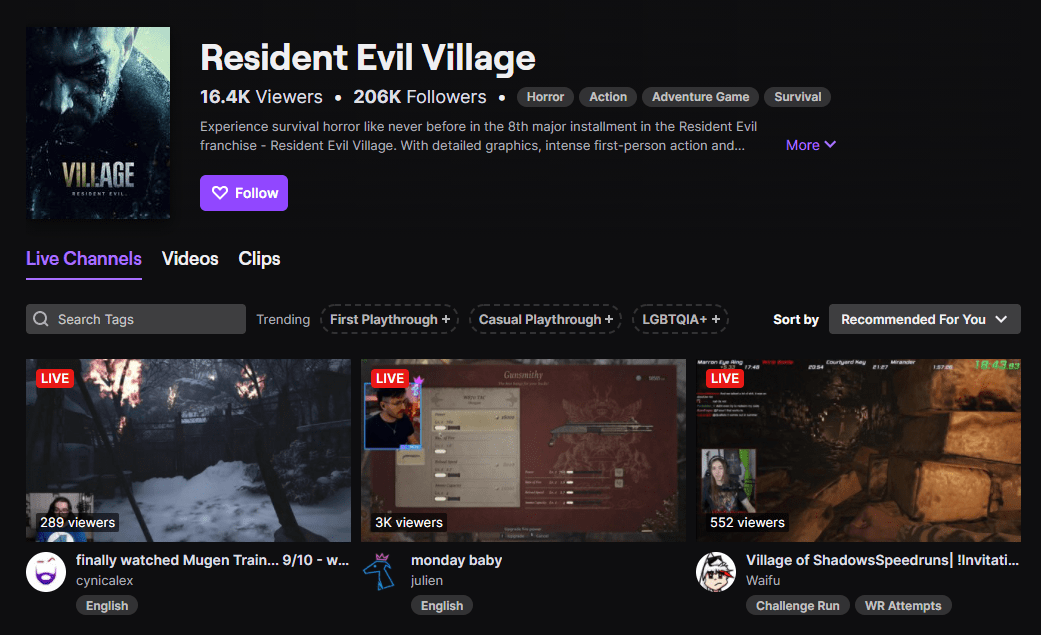 Number of Viewers: 19.6K
Number of Followers: 144K
The 8th major installment in the Resident Evil franchise, Resident Evil Village (or VII.I.AGE (great marketing logo)) is another horror-themed survival video game that has been a cult favorite of many.
The game takes pride in its detailed graphics, intense first-person action, and masterful storytelling that makes your gaming experience more realistic, enjoyable, and scary!
14. Teamfight Tactics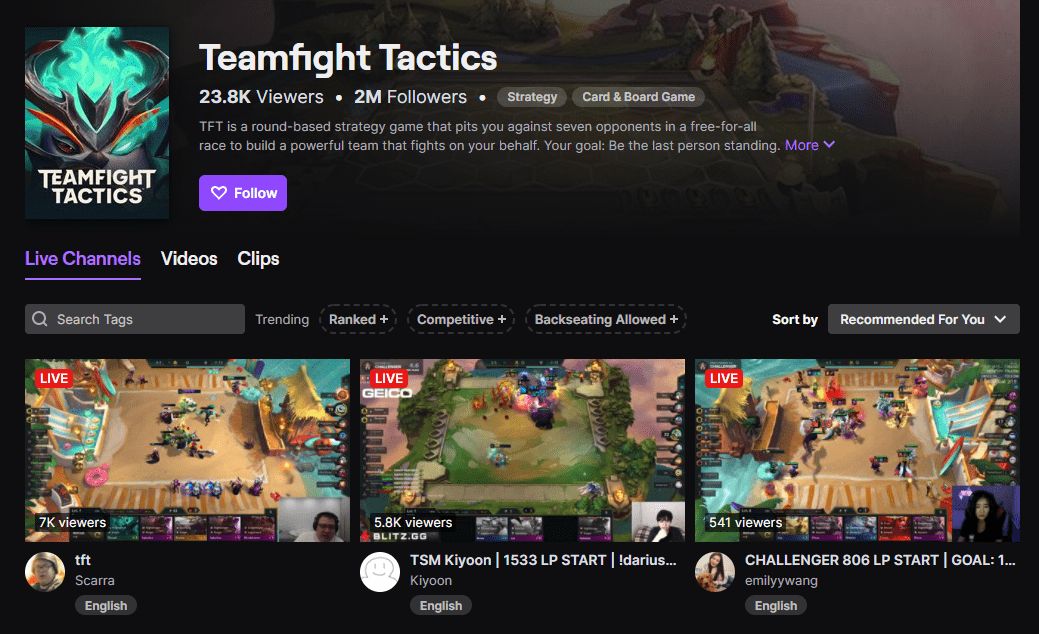 Number of Viewers: 22.3K
Number of Followers: 1.9M
The game's goal: The player needs to be the last one standing. It's a strategy game that lets you build a team to fight on your behalf. Teamfight Tactics is a spinoff of League of Legends and is based on Dota Auto Chess, a mod for Dota 2. 
Despite being described as such, Teamfight Tactics is still a popular game to stream. With a following of 1.9M, famous streamers like jukes have been playing it.
15. Garena Free Fire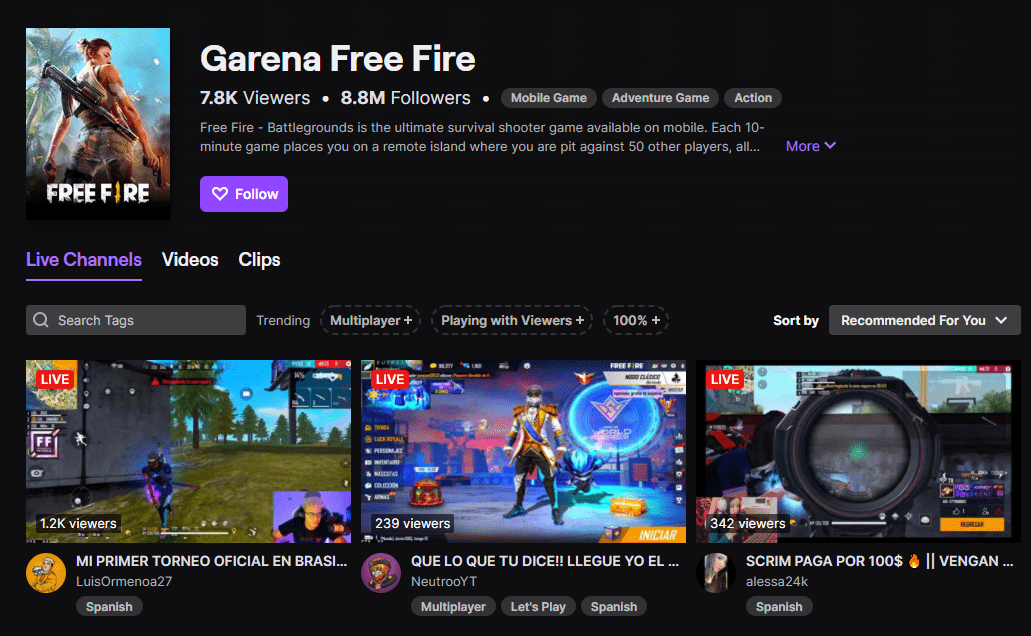 Number of Viewers: 22.1K
Number of Followers: 8.6M
Advertised as 'the ultimate survival shooter game available on mobile', the game lets you battle with 50 other players where the last one to survive is the winner.
The most viewed stream for Garena Free Fire is by Nobru, a Portuguese streamer with 3.2 million followers on Twitch. The video has 637k views as of now and you can watch it here.
16. PLAYERUNKNOWN'S BATTLEGROUNDS – PUBG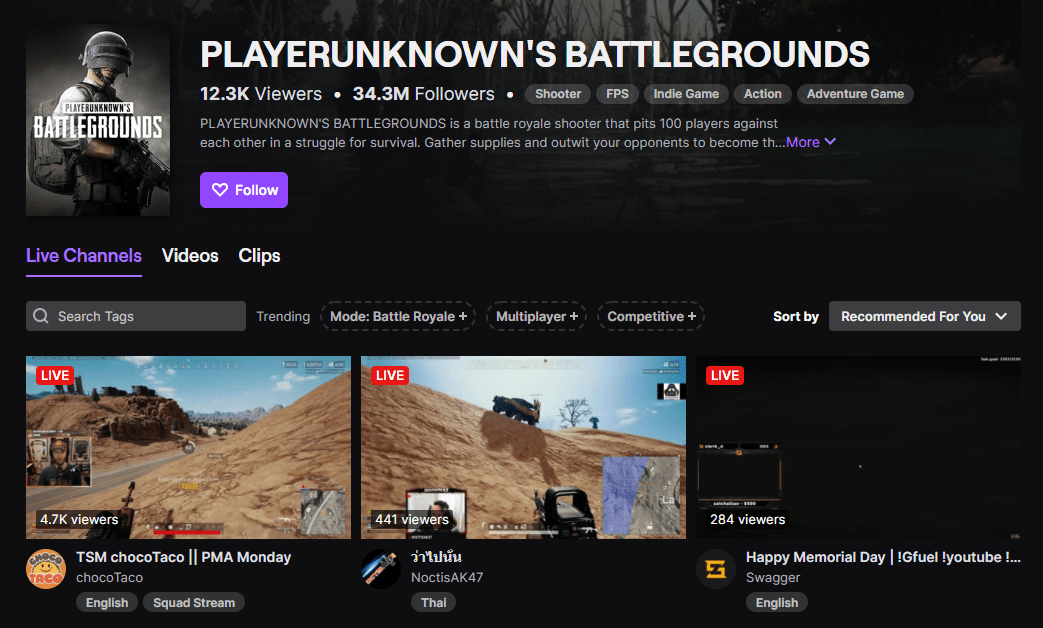 Number of Viewers: 20.6K
Number of Followers: 34.3M
Playerunknown's Battlegrounds, popularly known as PUBG, is a game developed and released by PUBG Corporation and is inspired by the famous Japanese film Battle Royale. Similar to the film mentioned, players are put into a single island where they need to kill in order to not be killed. The thrill of the game is that the map decreases in size as you play:  you cannot hide forever, and you need to fight to survive.
17. FIFA 21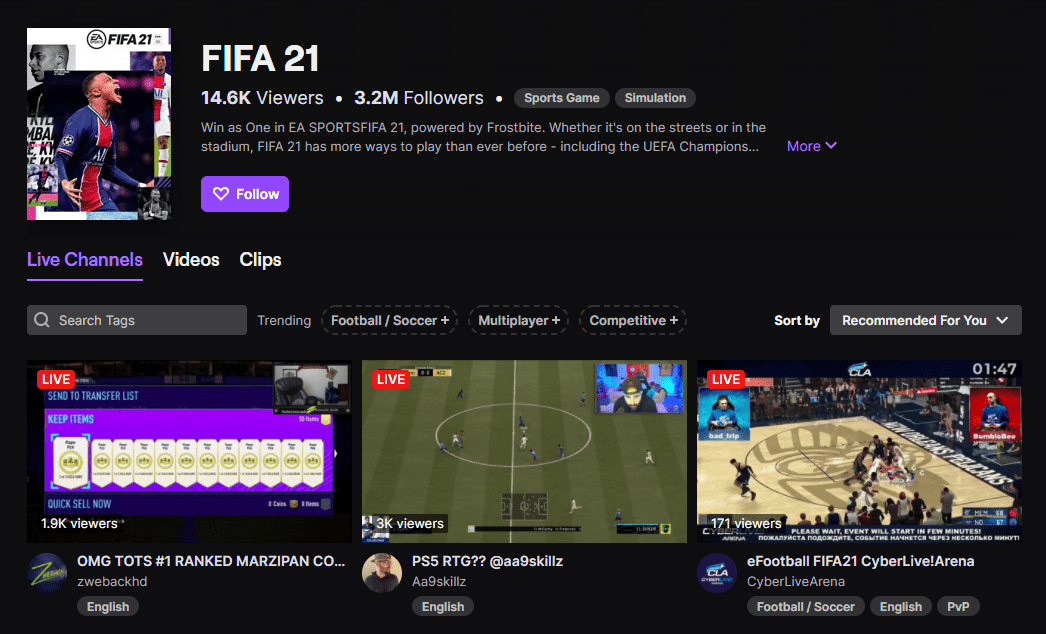 Number of Viewers: 19.7K
Number of Followers: 3.1M
A nice break from the battles, horrors, and survivals in our list, FIFA 21 brings out the football player in each of us. The game is the 28th installment in the FIFA series, with each installment offering better graphics and game experience.
What does this version have that made 3.2 million Twitch users click the subscribe button? Well, it is undeniable how large of a following football has in real life, so the high volume of people who want to experience playing it, even only in video game form, comes naturally.
18. Genshin Impact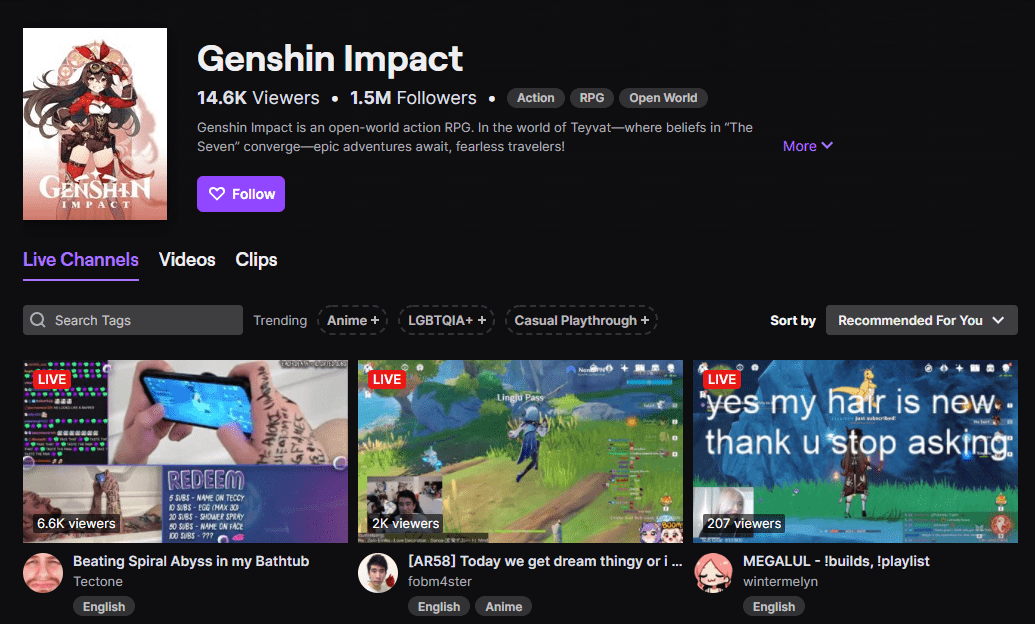 Number of Viewers: 18.9K
Number of Followers: 1.4M
Genshin Impact is an open-world action RPG. Although placed at the bottom of our list, the game still has a decent amount of viewers and an impressive amount of followers. If you love Anime, we suggest you play this game immediately. 
Take for example ThisIsNotGeorgeNotFound, with 727k followers on Twitch, got about 714k views on his Genshin Impact stream. This only shows that the game has great opportunities to climb to the top of our list.
19. Rocket League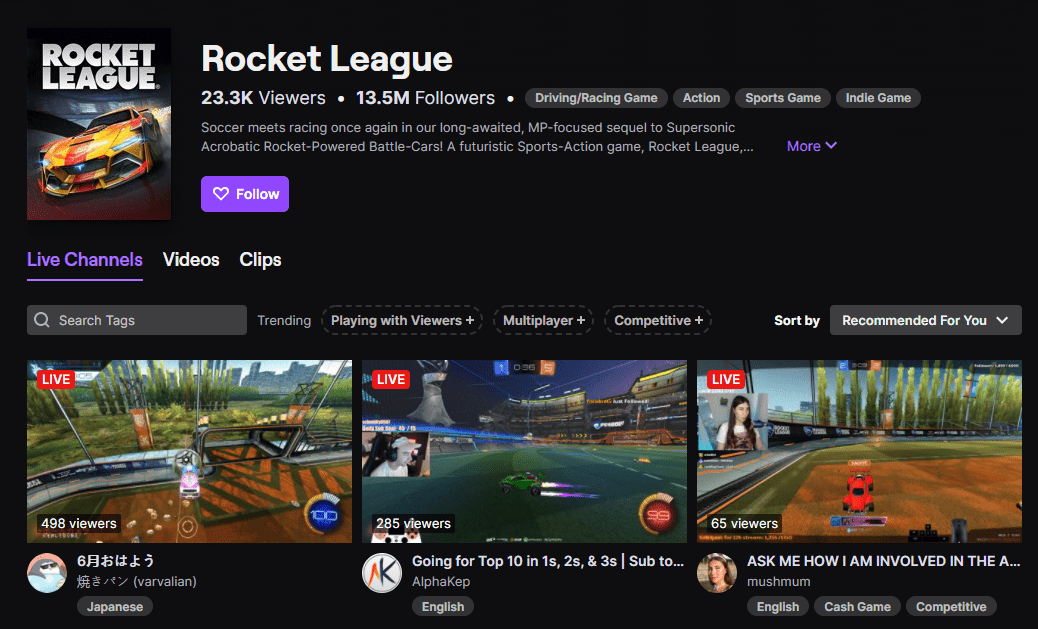 Number of Viewers: 16.2K
Number of Followers: 13.4M
Rocket League combines both soccer and racing in a futuristic Sports-Action game. It was released in July 2015 by Psyonix, but it was only last year when the game went free-to-play. With this, we can say that more and more viewers, players, and streamers will explore playing Rocket League. 
20. Escape from Tarkov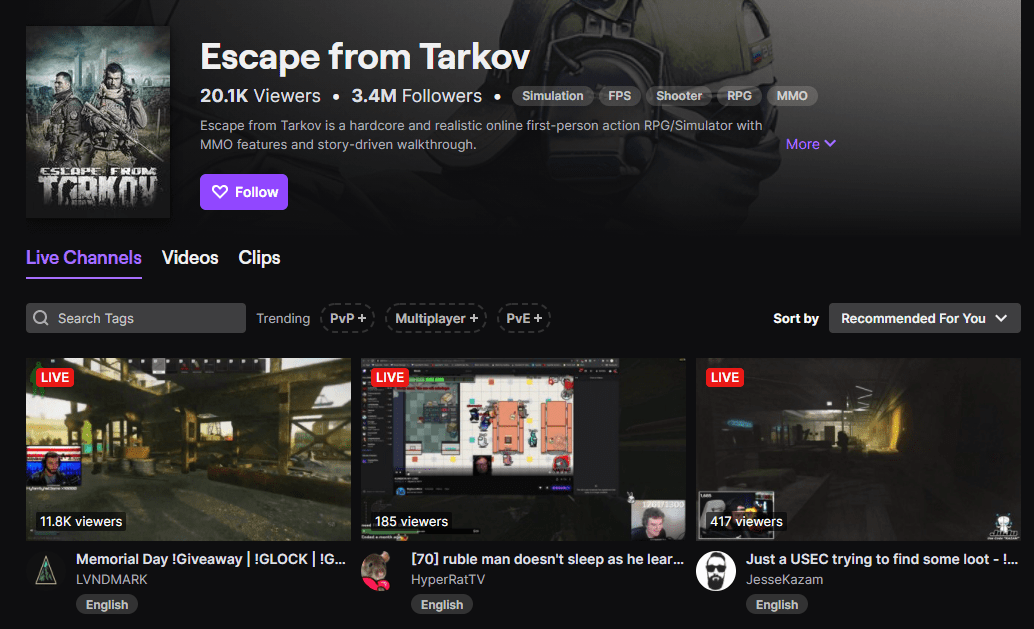 Number of Viewers: 13.2K
Number of Followers: 3.3M
Last on our list is a hardcore and realistic online first-person action RPG/Simulator. With a following of 3.3M, the game still offers the possibility of a higher watch rate. 
The game is set in Tarkov City, Norvinsk Region, where players need to act as mercenaries and make their way out of the city.
Bonus: Just Chatting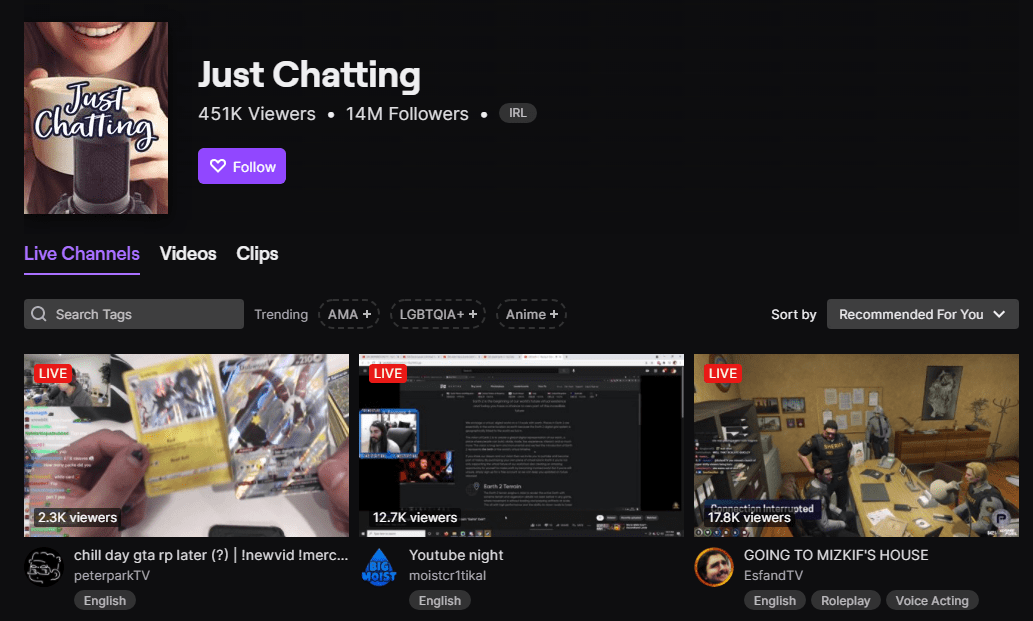 Number of Viewers: 254K
Number of Followers:13.8M
Aside from streaming games, you can also just talk to your audience in a chill manner. Literally, 'just talking' in your streams may get you a surprisingly high amount of viewers.
Best Gaming Practices to Build Audience
Now that you know where to broadcast your stream and which games to play, how do you keep an audience? Here are a few tips you can do to engage better with your audience and grow them. 
Be Consistent with Your Streaming Schedule
Consistency is key when it comes to building a career in streaming. As a streamer, you want to be a part of your audience's schedule and routine. You don't have to stream every day, but a consistent few times a week is much better than doing it every day for a month then going on hiatus.
Keep talking!
What will make or break you as a streamer is how you connect with your audience. It's easy to watch a game, but your audience wants to hear you play. Remember to keep the conversation going and entertain your viewers! Also, always thank your new subscribers and try your best to invite your new audience to subscribe as well. Acknowledge every comment (as often as you can) and thank every user who sends out Bits!
Give them a Good Game
You chose to stream because you love gaming. And chances are that you are good at it. Give your audience a good game to watch and do not be afraid to wow them with your skills.
TakeAway
With the long list we tackled, it is really still your decision on which games you want to stream; it's your life, your channel, and your enjoyment after all. Our most valuable tip would be to be yourself, be kind, persevere, and the views will come along. Good luck!