PUSHAS is a one-stop shop to grab the freshest shoes from all your favourite brands like Nike, Adidas Originals & more at an unbeatable price. It is the platform for sneakerheads.
PUSHAS was searching for a creative solution to relaunch their Influencer Marketing and find the right talents to achieve their sales targets.
Challenge
PUSHAS needed help with their social media campaign to increase conversions because of lack of success with previous campaigns. They turned to GGWP Academy where we created a campaign that gave PUSHAS success at last!
Platforms
We launched the campaign across Twitch, YouTube, Instagram, TikTok, and Twitter which allowed us to offer exclusive content and connect with our audience more easily. Through all this new technology, we were able to reach out beyond just traditional campaigns by offering an interactive experience through different mediums.
Creative
We developed a campaign to drive conversions where creators window shopped through the PUSHAS website live on stream. They gave their audience the option to vote on the shoes that PUSHAS sent out to them. Creators weren't allowed to know which they got until they unboxed the shoes live on stream. The surprise boxes were unboxed live on stream as well, continuing the shared shopping experience with creators' audiences.
The campaign has been well received with lots of viewers participating every time it was run. Viewers not only had control over what type of shoe the creator received but "cheat code" discounts for every purchase from PUSHAS!
To increase brand awareness, we followed up the primary campaign by commissioning our very own customized pair of white sneakers from PUSHAS. The customization process by GYSTFORKICKZ was streamed live on Twitch, generating conversation for both PUSHAS and GGWP Academy. The final product was then given away during an interactive campaign with great success!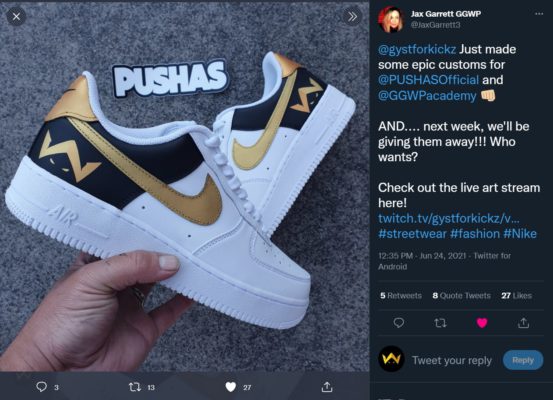 Final Results
We were able to generate 254% return on investment in addition to driving sales during the campaign through the "cheat codes". The four creators who were engaged are very excited about the future of their journey with PUSHAS and GGWP Academy.
Given the limited budget on hand, PUSHAS were more than satisfied with the results of the campaign.